Our range of handmade accent tiles with Celtic themes can enhance any field tiles and make a plain wall extra special. Available in a range of sizes from 2″ to 8″ to work perfectly in you home. Characteristics such as imperfect edges, rich burnt tones and colours that effectively contrast from tile-to-tile are some of the factors that highlight their unique beauty.
A fun way to create a unique look  by  using one of our beautifully hand made accent tiles in your design.

Handcrafted artisan tiles inspired by legendary creatures, birds, insects, and animals and framed with traditional Celtic patterned borders. Each one has a story to tell. 
Click on the designs below to learn more and see our range of available colours.
An effective way to create a unique look is to use one of our beautiful handmade accent tiles in your design.The influence of traditional Celtic art and mythology is very much present in our 6′ Celtic tiles –  from the ancient stone high crosses of Ireland, the Neolithic art of Newgrange and the beautifully illustrated manuscripts of The Book of Kells.
Click below to discover more about the meaning of each symbol.
This is our range of 6″ (15cm) relief tiles. A fusion of Celtic charm and oriental beauty
Asia with Its rich and ancient culture, majestic temples, stories of mythical beasts and bold warriors is not so different than the world of the ancient Celts. Our Oriental Range, inspired by our years in China, will bring elegance to any home, creating installations of style and sophistication.
Making your home legendary.
Click on the design to see the range of available colours.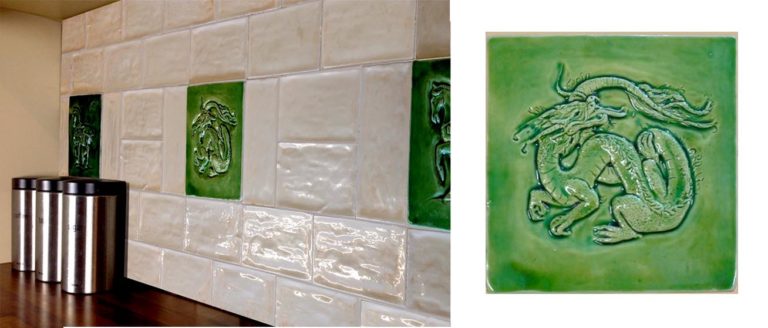 This is our range of 8″ (20cm) relief tiles.  Click on the design to see the range of available colours