TOLLYMORE FOREST – Gothic Follies and Game of Thrones location
Winter may have come to Westeros but it's summer in Tollymore
Summer and time to spend some quality time with the family, so we all squashed into our little car, tapped Tollymore Forest, Co Down into Google maps on the old i phone and followed the route. it directed us out past Newry and towards the beautiful majestic Mourne Mountains, taking us down the winding roads that go through picturesque villages and valleys.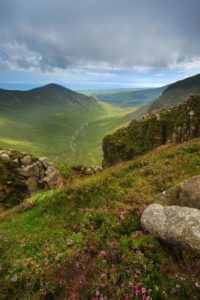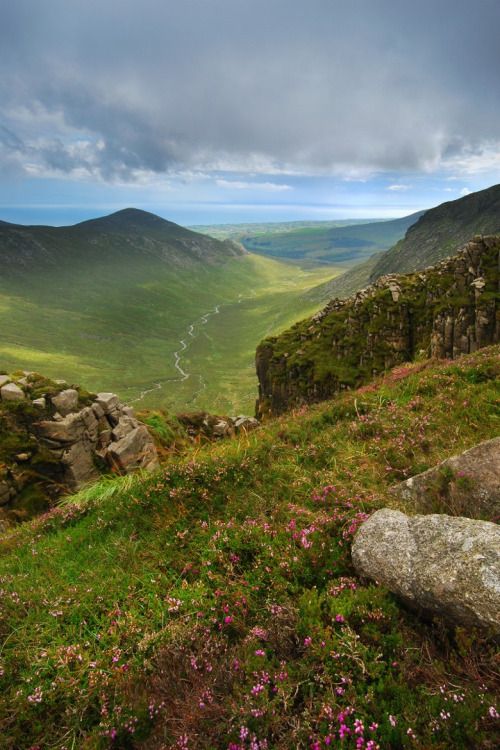 As we approached our destination we found ourselves on narrower roads and then a single track.  Eventually, Google tried to lead us up a small track into the forest which didn't allow cars.  Needless to say, this is one of those GPS moments .(although it does take you to a car park just outside the forest you can use to walk into the forest without paying for parking).
*Travel TIP- So if you're using google maps to guild you on your travels  I suggest you put in Bryansford Road, and you'll pass the main entrance on the right, soon after turning off the B180.
The park is renowned for its follies, and as you enter through the great gothic gateway, which is straight out of a fairy tale, you are met with a long sweeping driveway lined with ancient trees.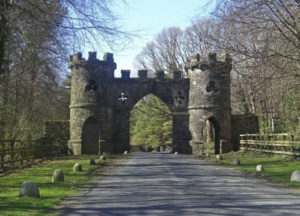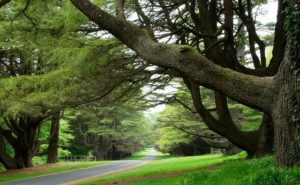 This road leads you to a well- maintained car park, picnic and camping area with great facilities.The playground is a joy to behold and will spark the imagination of any little one. They may even put their i pads down and have a play.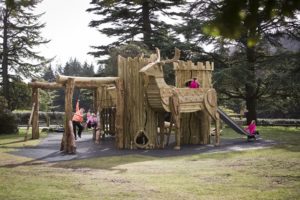 Parking costs £5.
This forest is steeped in history, but it comes to fame recently as one filming locations of Game of Thrones.  For all you G.O.T fans, this magical forest is where the Dire pups were found and many other defining moments were filmed.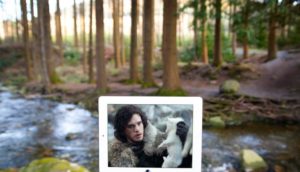 The forest has been an estate since the middle ages,  Its spruce has been felled and used as pit props in Welsh coal mines and its oak used to build the grand staircase on the Titanic but it is most notable for its gothic gateways and follies which were built in the 1700s.
An Arboretum in Tollymore was started in 1752 and is one of the oldest in Ireland. It contains trees from many different parts of the world,  There are also experimental plots of exotic trees such as monkey puzzle, eucalyptus, giant redwoods and Monterey pines.
From the car park, you have a choice of walkways through the forest, the most popular route is along the river.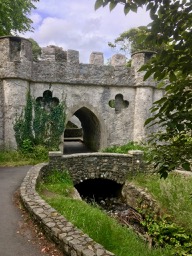 You pass under an unusual gothic style bridge and once there you are surrounded by high slender coniferous trees that guild you up the hill so you are looking down on the river. At this point, you can walk down to the river or walk for awhile through the trees. The Shimna river is crossed by 16 bridges as it flows through Tollymore.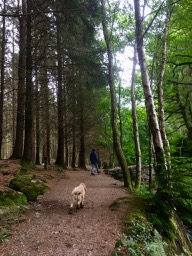 There is so much to explore along side the river. There are stepping stones and bridges to cross with numerous artificial and natural features including grottos, deep salmon pools, gushing waterfalls and spooky caves. It has ancient history too, the King's Grave is a megalithic cairn located in the western end of the park. and dates to 1000 – 1500 BC.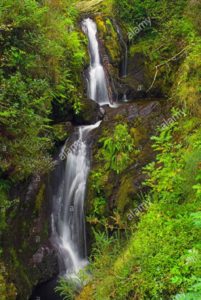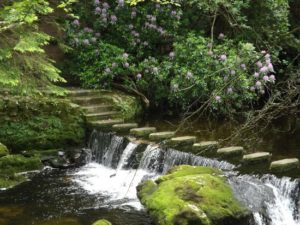 There is also an old white ring fort located in the west of the park, with walls two metres high but were likely more than double that when it was in use during the first millennium AD.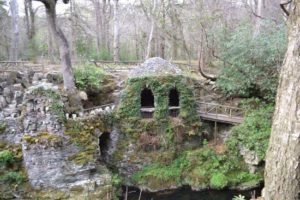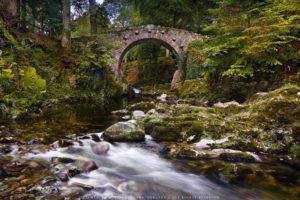 We spent about an hour and a half exploring along the river and then we headed back to the car park for refreshments .We will definitely visit again, next time we'll take a picnic since there's a great area next to the car park.  
                          The whole place looks as if it could have tumbled out of a fairytale.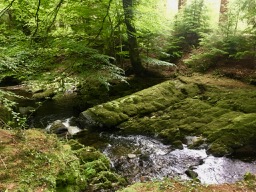 Oh and one more thing, your little fury four legged friends are welcome too.